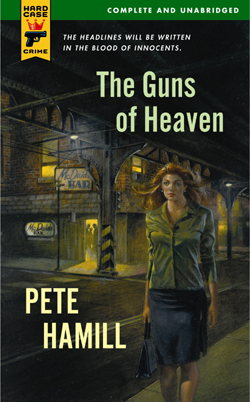 The Guns Of Heaven (1983) by Pete Hamill
I actually had no idea that this book was a Hard Case Crime reprint. I picked up an old edition in the dollar bin at the bookstore and liked the cheesy cover. It turns out to be a bit overwroght but I liked the main character and it was quite readable.
The main character is a New York journalist with close ties to the IRA back in the old country. On a visit over there he is given a letter to take back to America that starts a series of thrilling events. Briscoe unknowingly brings back some of "the troubles" from Ireland and when they mess with his young daughter there is no holding him back.
Hamill writes tautly and he has some great, if stock, characterizations.